The girl who 'dared' Hillary Clinton to compete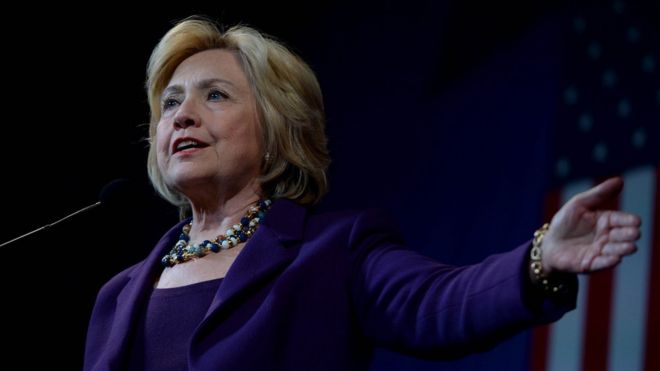 Hillary Clinton has often said she launched her own political career in 2000 because of the encouragement of a 17-year-old high school girl named Sofia Totti. So where is Totti now?
On a recent episode of Hardball on MSNBC, host Chris Matthews asked Democratic presidential frontrunner Hillary Clinton about her decision to make the leap from First Lady to politician, entering the 2000 race for New York state senator.
Clinton replied that at first, she was unsure about running.
"I'll tell you what changed my mind," she told Matthews.
In the winter of 1999, when she was still the First Lady, Clinton appeared at a New York City high school to help promote Dare to Compete, a documentary about women sports stars. She was introduced to the audience - which included the stars of the film, tennis legend Billie Jean King and gymnast Dominique Dawes - by a tall high school senior.
"I think she was like the volleyball or basketball captain. I came up and shook her hand," Clinton recalled. "She leaned over to me and she said, 'Dare to compete, Mrs Clinton, dare to compete.' And I thought, 'Wow.'"
Clinton has told this story many times over the years, including in her autobiography, Living History.
"Her comment caught me off guard, so much so that I left the event and began to think: Could I be afraid to do something I had urged countless other women to do?" Clinton wrote. "Maybe I should 'dare to compete.'"
Clinton did, of course, and went on to win the New York senate seat, become Secretary of State, and is now the in the midst of her second presidential campaign.
But what became of the bold 17-year-old girl Clinton credits as the inspiration for her political rise?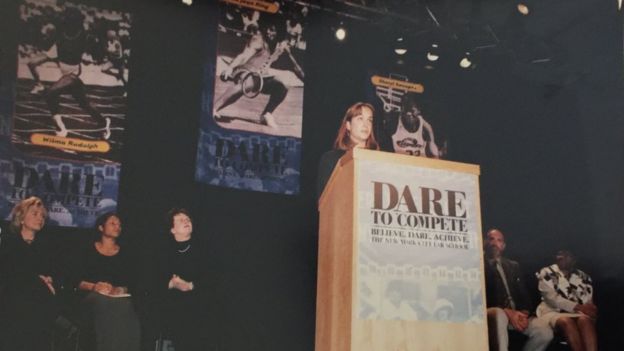 Her name was Sofia Totti - now it's Sofia Totti Bernardin - and she was captain of the basketball team at the NYC Lab School for Collaborative Studies. Reached in Paris, where Bernardin has lived for the past 10 years, BBC News asked whether the 34-year-old business owner and mother of two recalls the moment the way that Mrs Clinton has repeatedly told it.
"That's exactly what happened," Bernardin confirms.
At the time, she says what moved her most about the First Lady was less her politics and more her passion. Bernardin had already heard on the news and in dinnertime conversations with her parents that Clinton was deciding whether or not to run for the senate seat.
In her remarks, Bernardin introduced Billie Jean King as a tennis legend, Dominique Dawes as an Olympic gymnast, and Clinton as "hopefully a runner". Then came the moment when the two crossed the stage to meet one another.
"I just told her to go for it," Bernardin recalls. "It was probably totally out of place for me to do that, looking at it in hindsight."
Bernardin says that Clinton sent her a note afterward encouraging her to follow her own dreams as well.
In the 17 years since, Bernardin has taken her own advice to "dare to compete". After high school she studied international relations at Tufts University in Boston, then began a career in publishing and marketing at Vogue in New York.
The job moved her to Paris where she began managing European advertisers for the magazine. She says that after a representative for a luxury handbag company revealed that the brand was opening 20 new stores in China but had limited experience in the market, Bernardin had an epiphany - she quit and opened her own advertising agency specialising in connecting high-end European fashion brands with the booming Asian market. She was 28 at the time.
"I said, 'You know what, I believe in this and I believe in the future of this, so I'm going to do this on my own,'" she recalls.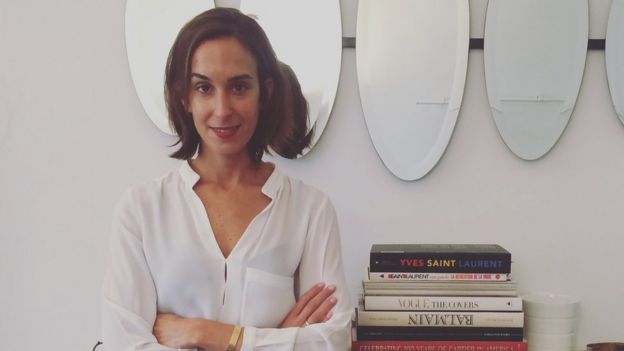 Conde Nast hired her agency to manage all their titles in China, India and Japan, which Bernardin says she helped build into a multi-million dollar portfolio.
In 2011, she left the agency she created to found yet another company with her business partner, Sabrina Marshall - they launched RESEE in 2013, a company that sources and resells high-end vintage and secondhand clothing.
Bernardin says that in becoming an entrepreneur, the words "dare to compete" and Mrs Clinton's encouragement from that day in 1999 have served her well.
"I carry that with me, with every challenge," she says. "Like when you're sitting in a room in front of investors and they say, 'Where is the man in the company?' and we say, 'No, we're going to do it.'"
Bernardin says that because of the company's success in the American market, the day will likely come when she will move back to New York along with her family to open an American office for RESEE. But for now, she will be voting in the 2016 election from overseas - and Clinton will have her support if she is the nominee.
Looking back, Bernardin says she does feel a little bit sheepish about her boldness that day on stage with Clinton, but has no regrets.
"It's the worst feeling to regret not having said something, and it was just so genuine, I just couldn't resist," she says. "Looking back at it now, I would probably say it to her again. I definitely would."
bbc.com
The girl who 'dared' Hillary Clinton to compete
Reviewed by
Unknown
on
11:15:00 PM
Rating: